The Development Bank of Singapore (DBS), the largest bank in Southeast Asia and share- holder of Investment & Capital Corporation of the Philippines (ICCP), recently celebrated its 50th anniversary with a musical based on its award-winning web mini-series, Sparks. The musical by Singapore theatre company Pangdemonium ran from August 3-5, 2018 at the Capitol Theatre in Singapore.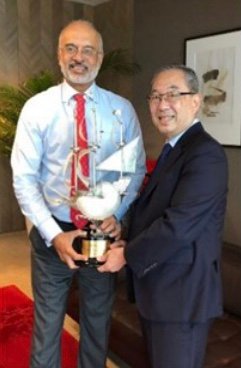 The golden jubilee celebration was attended by Prime Minister Lee Hsien Loong, as well as many of the bank's leaders and employees from its early years and the new leaders at the helm head- ed by DBS CEO Piyush Gupta. Other senior DBS executives present included Eric Ang, Managing Director and Head, Financial Mar- kets; Tan Jeh Wuan, Managing Director and Head, Capital Markets Singapore; and Choe Tse Wei, Managing Director, Strategic Advisory.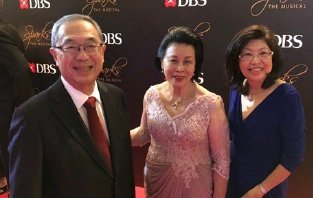 The gala show on the evening of August 4 was graced by the bank's clients, supporters and stakeholders, including ICCP Group repre- sentednby Chairman Guillermo D. Luchangco. Luchangco presented an artistic rendition of a sailing ship made out of a seashell to DBS CEO Piyush Gupta as an expression of ICCP's grati- tude to the bank which has been an integral part of its journey and success.
The special musical, which served as a tribute to the bank's pioneers as well as leaders and staff who have shaped DBS over the years, was also an opportune time to envi- sion future collaborations and opportunities for growth between DBS and ICCP.